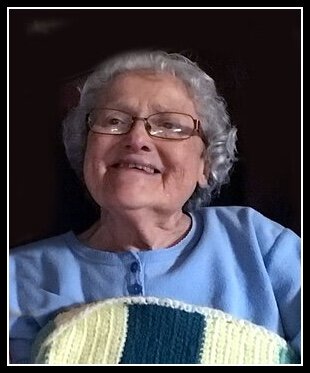 Obituary of Marian Norlin
Please share a memory of Marian to include in a keepsake book for family and friends.
Died peacefully at her home in Goulais River on Wednesday, January 5, 2022. Mrs. Norlin was born Marian Roselyn Steede, December 25, 1934, in Escanaba, Michigan, to parents Richard and Adeline Steede. After graduating high school, she married Fred Norlin, of Stalwart Michigan, June 20, 1953. They started their family on a small farm, basically living off of the land, the lifestyle Fred had known his entire life. She had accepted Christ as her Savior as a 12 year old, and brought the influence of her spiritual growth to her marriage. Not long after their marriage, they started attending a small Baptist church in Hessel, Michigan. While attending there, Fred and Marian felt God's call on their life to enter full time ministry, in whatever manner and location that God had for them. In 1958, they gathered up all of their belongings, along with their two young daughters, Janet and Karen, and moved to Grand Rapids, Michigan, to get the needed religious education degree for ministry. While attending Bible College and Seminary, their son, John, was born. After graduation from Seminary, Fred and Marian accepted a call to a small group of people seeking a pastor in Goulais River. They moved to Goulais River in August of 1965, to the established Goulais Bay Baptist Fellowship, now Mountain View Baptist Church. Marian served faithfully alongside her husband and was fully involved with many aspects of the ministry. She taught Sunday School, led women's bible studies, played piano and accordion for church, coordinated music ministry, directed plays for Christmas programs, worked with vacation bible school in summer, worked with Awana, a children's ministry program, visited folks in the hospital, and overall attempted to get to know people in the community, to bless them in whatever way she could. Besides ministry and being a mom of three, Marian gathered wild berries and garden vegetables for canning and freezing and making jam, baked bread and pies and such, as her normal sacrifice of love for her family. She also was very faithful in writing a multitude of letters on a regular basis, to communicate the progress and prayer requests of the ministry, to the many supporting individuals and churches of their ministry there.
She was preceded in death by her parents, her brother Dick Steede, her sister Lillian Watchorn, and grandson Michael Nardi. She is survived by her husband Fred, her three children, Janet, Karen, and John, ten grandchildren, and twenty-four great grandchildren.
Marian passed into the loving arms of her Lord, while surrounded by her husband, and daughters, at her home in Goulais River.
Due to attendance restrictions a private family service will be held at 11:00 a.m. on Monday, January 10, 2022 with Pastor Scott Krug officiating and for those who wish to view, it will be streaming live through Facebook on the Northwood Funeral Home Facebook page, https://www.facebook.com/northwoodfuneralhome/. Simply be on the Northwood Funeral Home Facebook home page at 11:00 a.m. and the video will appear when the service begins. Spring interment at Stalwart Cemetery, Stalwart, Michigan.
Arrangements entrusted to Northwood Funeral Home Cremation and Reception Centre (942 Great Northern Rd, 705-945-7758).