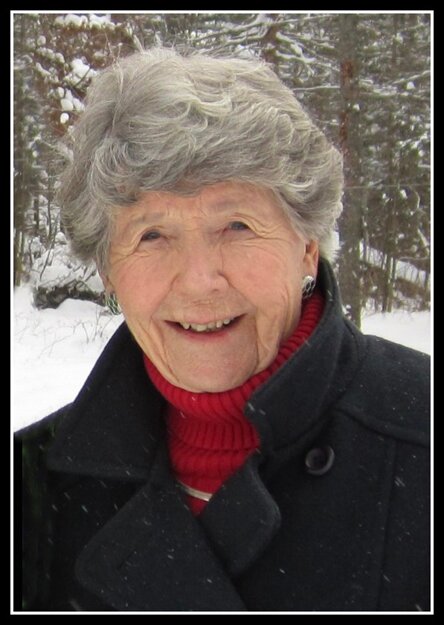 Obituary of Margaret Helen Keenan
Please share a memory of Margaret to include in a keepsake book for family and friends.
"I like people. I enjoy the comings and goings. I've had a wonderful life."
Peggy lived a full and eventful life, mostly in Sault Ste. Marie. She was born August 22, 1922 and died quietly on February 19, 2022 at the F.J. Davey Home. She was a well-known local businessperson having managed several family businesses over the years: the Lois Style Shop, the Royal Hotel and Peggy O'Linens. In retirement she had a host of friends that she travelled with, played bridge with and chatted on the phone with.
She will be dearly missed by her children from her first husband, late Bernie: Michaela, Nanaimo, B.C., late Patrick, Kevin (Vickie), West Kelowna, B.C., late Terry (Lois), Sudbury and Tim (Nancy), Hilton Beach. Her second husband, the late Vincent, was a widower with 5 children she also loved: Michael (Anne), late Breen (Judy), Sudbury, Mary Catherine (Ed), North Bay, late Kerry (Brenda), Collingwood and Sharon, Kanata. Her many grandchildren and even a few greats were pride and joy. In recent years she was always so pleased to see those who lived nearby – Scott and Ted and their families, Ashleigh and Angela and theirs and of course, Dallas and his new bride, Cassidy.
Catherine and Charley Keenan, Toronto have been so great to keep in touch by phone or visit with their families. Many enjoyable hours were spent on the veranda at 10 Kensington Terrace, the home she loved. Peggy also often saw the family of her former fiancé, the late Bob Campbell.
Peggy will also be sadly missed by the Danz family, neighbours on Queen St., in particular her friend and buddy, Nancy and her family. The children of her sisters kept in touch with her and Peggy was pleased to see several at her 90th birthday party.
She was born Peggy McGee , daughter of the late Florence (Osborn) and the late Tom McGee in a house on Church St. and was the middle of 2 sisters, Lois and Dorothy. In 1945 she married Bernie Keenan and lived in the Royal Hotel, the family business, for 5 years before they moved to the corner of Queen and Lake St. After his death, she assumed management of the award-winning hotel until she married a Keenan cousin, Vin, a dentist from Sudbury. They had 9 busy years together spending summers at Ramsey Lake in Sudbury and the rest of their time in the Soo. Peggy loved to say she was 'Mrs. Keenan Keenan' and was proud of all her Keenan connections. When Vin died, she opened up her store on Queen St., Peggy O'Linens where she made many new friends over the years.
"She was sharp as a tack and spoke her mind in the best, funniest, and still classiest way." In a sweet notice posted online, her young neighbour, Brianna recounted how aware Peggy was. She loved clothes and always wanted to be dressed right for the occasion. She enjoyed 'winetime' and 5 pm was a time for friends and family to gather on the veranda.
Thanks go out to the staff at Collegiate Heights and especially at the F.J. Davey Home who've had so much to deal with during COVID – Kara, Jessica, Jennifer, Cierra, Cindy, John and anyone else we have forgotten - you all went above and beyond for her.
She can be viewed online in her Oral History of Sault Ste Marie interview: https://www.youtube.com/watch?v=OvMpnxod3c4&t=2850s
In following Peggy's wishes, there will be a traditional Irish celebration. A Celebration of the Eucharist will be held on Friday, June 10, 2022, the birthday of her deceased son, Terry, at Precious Blood Cathedral at 1:00 p.m. with Father Hamish Currie officiating.
Following the mass, family and friends are invited to the Water Tower Inn, Courtyard Room at 2:30 p.m. to "raise a glass" in celebration of Peggy's life.
Donations can be given to T.A.A.G, where Peggy had adopted her beloved cat, Rosie, or the Heart and Stroke Foundation.
Arrangements entrusted to Northwood Funeral Home Cremation and Reception Centre (942 Great Northern Rd, 705-945-7758).
May the sun shine warm upon your face; the rain fall soft upon your fields and until we meet again,
may God hold you in the palm of his hand.
- Irish blessing