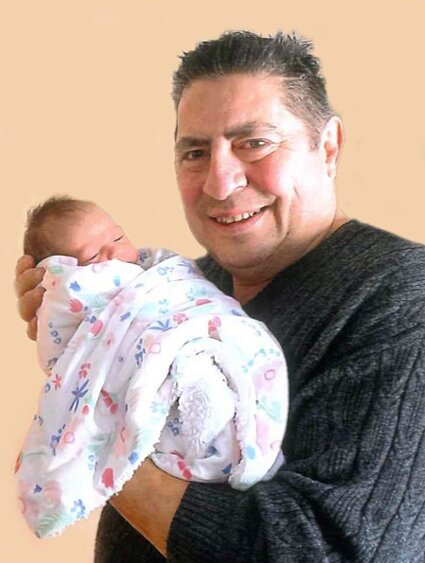 Obituary of Henry King
Passed away peacefully at home, surrounded by the love of his family, on Sunday, September 25, 2022 at the age of 62. Beloved husband and best friend of Ann for 31 years. Loving father of Jesse (Krystal Shaffer), Kaylee (Justin Cond), Marcus (Emily Matheson), Kaden and Jordan. Proud Grandfather of Jayla Cond. Predeceased by his parents Henry King and Dorris "Muffy" Trudeau (King) of Thessalon. Brother of Willard (late Sharon), Sandra Giasson (Rudy), Ron (Coralee) and Debbie Smith (Gary). Son-in-law of the late Fay and the late Archie Meredith. Brother-in-law of Brian Meredith and Bruce Meredith (Tammy Robins). Hank will be fondly remembered by his many nieces, nephews and extended family. Special friend of David Boyer, Paul Nordgren and Lynne Eckford. Hank was a devoted and fiercely protective foster father for 13 years to Devon, Damion, Jadin, Alex, Vann, Mason and many more.
Early on Hank attended the Sault College Hospitality and Hotel Management program. By the age of 24 he was a chef by trade. He quickly became head chef at Zak's Restaurant in Sault Ste. Marie. From there he opened up his own business (King Foods Catering). He would operate the cafeteria for Algoma University as well as the majority of the Algoma region high schools. During this time, he also catered hundreds of large weddings and large events. He purchased the Riuniti Banquet Hall in which he ran for 11 years. He also ran the Agawa Tour Train food services. At that time, Hank employed over 200 people. Upon selling his businesses, he opened Kings Lighthouse Grill on St. Joseph Island. After completing his teaching certificate, he was also a culinary professor at Sault College and Gates College.
Hank enjoyed watching the Toronto Maple Leafs and the Dallas Cowboys. He was also an enthusiastic Soo Greyhound fan, holding season tickets directly behind the home bench for many years. He mentored many children in the community for over 15 years as a hockey and baseball coach. Hank loved travelling the USA, specifically spending his summers in Traverse City, Michigan. He was always up for a shopping trip of any kind!
Friends and family are invited to visit at Northwood Funeral Home Cremation and Reception Centre (942 Great Northern Rd, 705-945-7758) on Friday, September 30, 2022 from 11:00 a.m. until the time of the Memorial Service in the chapel at 2:00 p.m. with Mrs. Helen Smith officiating. Memorial donations to the Canadian Cancer Society would be greatly appreciated by the family. A heartfelt thank you to BayShore Home Care nurses Amy and Jessica for the care and compassion shown to Henry and his family.