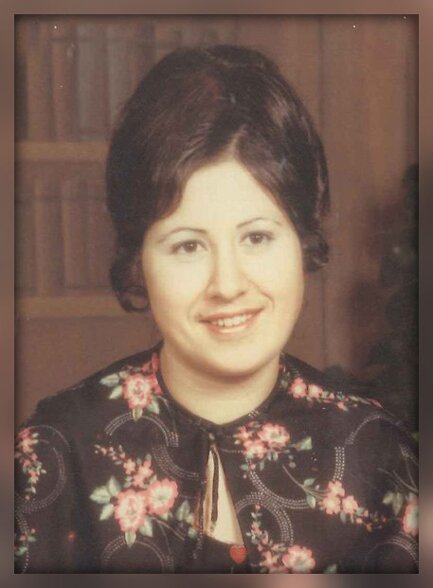 Obituary of Linda Rosemary Briglio
Linda was called by her Saviour to the next part of her journey while surrounded by her family and loved ones. Beloved daughter of the late Eduoardo and Emilia (nee Caruso) Briglio. Loving mother of her only child, Carolina Germanili and buster of her adoring son-in-law, Justin. As part of her living legacy, she leaves behind her two precious grandsons, Cruz Martino and Cash Cristiano to carry on. Dearest sister of Iolanda (nee Briglio) and sister-in-law of Emilio Guzzo who were dedicated caregivers to her throughout her life. Sister of Achillo (Judy) and Silvio Briglio (Sharon). She loved her niece, Lina Guzzo (Tim), and nephew, Mauro Guzzo, like they were her own children. And she had a special place in her heart for her American nephew, Ryan Blain (Melissa). Proud Comare of her beautiful Commarella, Christina Lazdins (Jonathan, or as Linda called him Jason) and wonderful Zia and great-aunt to Alex Weiss (David), and Emily Atkinson (Tyson), Nicholas Guzzo, and Olivia Guzzo.
A true testament and representation of her kind heart, Linda chose to leave us on World Kindness Day. Throughout Linda's life she endured multiple hardships but never allowed them to dull her spirit or love of people and the simple things of life. Linda will always be remembered for her love of beautiful things including lovely flowers, sparkly jewels, and great fashion. Everyone who knew Linda, knows she loved baking and always had room for sweet treats, a Timmy's half French Vanilla, half coffee, and had a special love for massive turkey drumsticks. Can you see her gnawing on it now? She inspired us with her tenacity and determination to get anything that she wanted, from whoever could get them to her. And if you had a spare minute, Linda could surely find a way to get you to play cards with her. Her favourite was Crazy 8s that she often played with her friend Betty from Cara house. Wherever Linda went, she brought laughter with her. She had a great sense of humour and especially enjoyed her own jokes even if no one understood the punch line. Linda always enjoyed parties with family and friends, where she could enjoy her "holy water" and sing and dance the night away. We know she is continuing to sing and dance with us from above. She leaves a lasting impression on our hearts just like the lipstick stains on our cheeks from her sweet kisses. Though irreplaceable, we ask that you cherish your joyful memories of her and continue to laugh and celebrate all her favourite things in her honour.
At last she is at rest and joins all the saints and angels along with all her predeceased uncles and aunts, and is survived by a handful as follows: late Alessandro and Palmina Caruso, late Palma and Gaspare Briglio, late Ernesto Caruso (Matilda), Pietruzza Gagliardi (late Mario), all of Sault Ste. Marie; Giuseppina Mazzarello (late Ernesto) of Ottawa, late Ortenzia and Francesco Sdao, Christina Spina (late Gabriele), Carmela Bossio (late Geniale) and the late Francesco and Francesca Caruso, late Francesco and Mariuzza Briglio, and late Emilio and Emma Briglio, all of Italy, late Nicole Briglio (Cesira) of Montreal, and Cicchina Coccimiglio (late Michele) of Burnaby, British Columbia. She is survived by numerous cousins with whom she grew up in Italy and Canada, too numerous to list here. She looked forward to her luncheons with her special cousins: Mary-Lou Gagliardi, Santa DeMarco, Anne Marie Caruso, Ada Bruno, Roseanna Sdao, Carmel Kennedy, Lina Fata and Chisato DeMarco.
Friends and family are invited to visit at Northwood Funeral Home Cremation and Reception Centre (942 Great Northern Rd, 705-945-7758) on Friday, November 18, 2022 from 10:30 a.m. until 12:30 p.m. Funeral Mass will be held at St. Veronica's Church at 1:00 p.m. with Father Ron Ambeault officiating. Entombment at Holy Sepulchre Cemetery Mausoleum. Memorial donations to F.J. Davey Home Foundation or the SAH Mental Health & Addictions Fund would be greatly appreciated. The family sends heartfelt thanks to the F.J. Davey Home staff on 3 Birch for the outstanding care, compassion, and tolerance of the constant shenanigans of Linda. Additional thanks to the March of Dimes staff while she lived at Cara house for keeping her busy and entertained with doing all the things she loved.
Visitation
10:30 am - 12:30 pm
Friday, November 18, 2022
Northwood Funeral Home
942 Great Northern Rd.
Sault Ste. Marie, Ontario, Canada
Funeral Mass
1:00 pm
Friday, November 18, 2022
St. Veronica's Church
559 Douglas Street
Sault Ste. Marie, Ontario, Canada