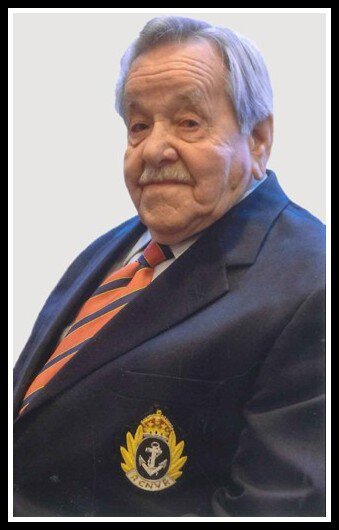 Obituary of Lawrence MacKenzie
It is hard to imagine how anyone could have packed more adventure, fun, work, and love into life than Laurie did in his 97 years. Born the middle child of 5 in Moncton N.B. he left high school to join the RCN lying about his age to get in. His first ship was the HMCS Sault Ste. Marie but after just a year left the navy and served in Combined Operations until the end of the war. In that time Laurie participated in raids behind enemy lines and worked with resistance movements throughout Europe. Upon returning home he attended Mount Alison University and was chosen from their hockey team to play for the Quebec Aces and actually dressed once for the Montreal Canadiens, but injury sent him back to the Maritimes. It wasn't long before he re-enlisted, this time in the army. Adventure struck again. Laurie was selected to be part of the military guard travelling across Canada with young Princess Elizabeth and the Duke of Edinburgh on their first trip to Canada. As a Captain he was seconded to NATO as a military aid to Lester B. Pearson traveling Europe and North Africa with the contingent. After retiring from the Armed Forces he settled in Winnipeg working as a department manager for the Hudson's Bay Co. main store. That was where he met the love of his life and best friend Betts. They married in 1974 and two years later they had a beautiful little girl to join his beloved stepson Jim Harvey. It was in 1985 that he found his dream job as an instructor with New Careers, Department of Education and Training Manitoba Government. Laurie truly loved his students and traveling to the northern communities on monitor trips. A transfer to Brandon, Manitoba brought another milestone when he became a city councilor and was chosen to be the chair of the commissioning committee for the new HMCS Brandon. Retirement never suited Laurie so he also taught several courses at Assiniboine College. One day he announced that he was ready to move again. Not many would sell off everything and head for China at 75 but Laurie and Betts did. He quickly became principal of the small English College that took the chance on engaging both of them. After two years he was presented with an opportunity he couldn't pass up. Laurie developed a program called Volunteer English Teachers that took tourists and other visitors into small mountain villages to expose the elementary students to the language and speaking to foreigners. It was a huge success and V.E.T. continued successfully after he left China. Many rural Chinese children benefited from this experience by allowing them to possibly get a job in the tourist rich area. Sault Ste. Marie became home to be with his daughter and grandchildren. His main activity was with the Legion and for years hosted the weekly meat draw. Over the past four years Laurie attended the V.O.N. Day Away Program, affectionately called "Grandpa Day Care" in our family, where he kept the staff on their toes during word and trivia games.
Laurie leaves to mourn his wife Betts of 48 years, his stepson Jim Harvey (Anne-Marie) of Winnipeg, his daughter Gaelyn MacKenzie (Kelly Reid) and his beloved grandchildren Liam and Lochlyn Coleman of Sault Ste. Marie.
Friends and family are invited to a Celebration of Life in the Lower Lounge at Northwood Funeral Home Cremation and Reception Centre (942 Great Northern Rd, 705-945-7758) on Thursday, December 1, 2022 from 7:00 p.m. until 9:00 p.m. with a Legion Service taking place at 7:30 p.m. In lieu of flowers memorial donations to the Royal Canadian Legion Branch 25 Poppy Fund or the charity of your choice would be greatly appreciated by the family.
At the going down of the sun we will remember them