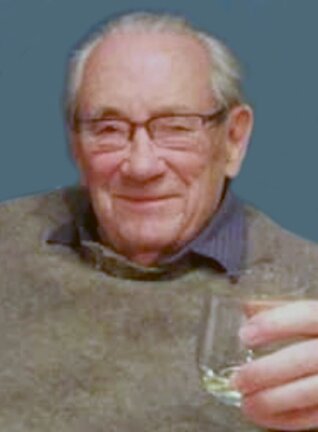 Obituary of Frederick Hadley Griffith
After a long, extraordinary life well lived, our beloved father and grandfather Fred Griffith died at the Algoma Residential Community Hospice (ARCH) on Friday, March 3, 2023.
His children Louise (late John Stephens), Matt and Kathleen and his two grandsons, Matthew Stephens and Jordan Barry, will miss his unconditional love, guidance, wisdom, constant support, great advice, terrific sense of humour, and excellent stories. He will be missed by his niece Mary Jane (Silvio Persic), her children and grandchildren, his sisters-in-law Janine LeBlanc Mignault and Anna Perry and their families, as well as the families of his late sister-in-law Marie Germaine LeBlanc. He will be fondly remembered by his cousins in England and mom's cousins in New Brunswick who we all love so much. Fred was predeceased by his parents, Capt. Matthew Griffith and Florence (Hadley) Griffith, his siblings and their spouses, Eileen (Jorma Hormavirta), Carl (Bessie Mingo) and Florence (Victor Haft), his nephews Bob Haft (Andrea Samuels) and Alain Mignault, and the love of his life, our mom Marguerite (LeBlanc) Griffith.
Dad met our mom on a blind date. At the end of the evening, he told his good friend Don Nixon, "This is it. We're going to get married", and so they did on June 22, 1957. Theirs was a true love match. They had a wonderful life together for over 52 years, enjoying family and friends, entertaining in style, travelling to many parts of the world, and loving their camp on Lake Superior. Many great meals were served around the dining room tables at both homes, accompanied by much laughter and some great stories. We are left with broken hearts, but with great memories to sustain us.
Fred had many dear friends, some already departed but several left to mourn his loss. Special among them are Carol Ann Pagnucco, John Harwood, Tom Marwick, Gerry Kiley and Michelle Dungey.
Many thanks to Frank Comery for all his help, to the homecare nurses for their care and compassion, to the staff of 3C and 1B at Sault Area Hospital and to the amazing staff and volunteers at ARCH.
Dad didn't want a solemn funeral service, so to respect his wishes we will have a celebration of his life on Saturday, March 18, 2023 at The Loft at Algoma Conservatory of Music from 1:00 p.m. until 4:00 p.m.
If you wish to honour Dad's memory with a charitable donation, we ask you to consider ARCH. Arrangements entrusted to Northwood Funeral Home Cremation and Reception Centre (942 Great Northern Rd, 705-945-7758).