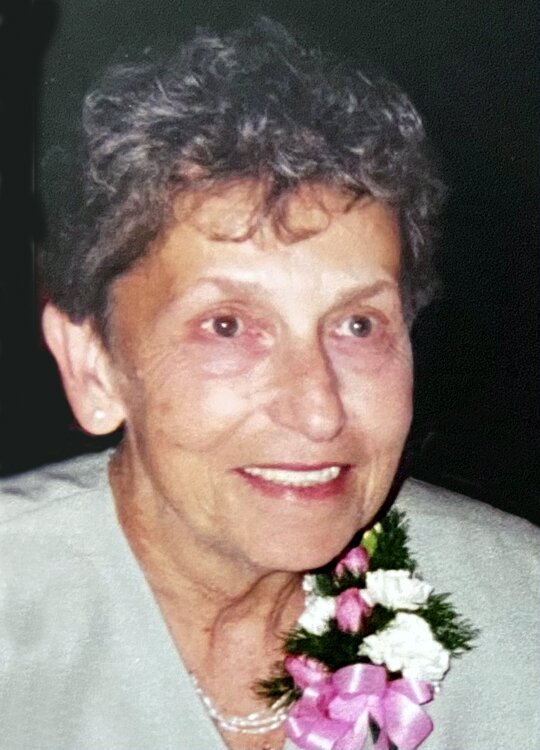 Obituary of Eva Lillian McCurry
Passed away peacefully on the evening of March 2, 2023, in Sarnia, with family by her side. Eva was in her 94th year of life. Predeceased by her husband James McCurry; parents Antonio and Palmina Nanni; sisters, Elsie Perry (Arnold); Ellen Hutchison (Gerry); brothers, Orman Nanne, Alphonse Nanni, Terry Nanne and his wife June (Gallagher) and John Nanni.
Survived by her children Brian (Hazel) and Pamela; grandchildren, Christopher McCurry (Jessica), Devon McCurry and Cory McCurry; sisters-in-law Glorya Nanne (Orman) and Marion Nanni (Alphonse) and many nieces and nephews.
Proud of her Italian heritage, our mother brought great love, energy, wit, wisdom, creativity and style to everything she did - as a greatly loved life partner to our father and as a much-cherished mother and grandmother.
She always worked hard, whether it was helping out with her family's grocery business when she was young, or later as the valued business partner of our father. But she also took great pleasure in simple things. She loved her extended family and many friends. A talented cook, her meals served to family and friends were epic in generosity and delicious to savour. She was an amazing seamstress who fashioned her own special brand of couture for a grateful daughter. She created a beautiful home for her family and to welcome friends. She was great fun: she volunteered, she curled, she danced, she skied cross country, she played bocce, she golfed, and she shopped - masterfully. She was ever elegant.
She drew great strength from her faith. Hers was a life very well lived and we will always be guided by her example.
Our mother was a dialysis patient for two decades and met the challenge with grit and grace. Sincere thanks to Dr. Yee, Dr. Berry, Dr. Shaffi, the nursing staff at the Sault Area Hospital and doctors and nurses in Sarnia and London, Ontario. The attentive care she received from all contributed greatly to her quality of life.
To Dr. McCreery, Dr. Crombeem, the nurses and PSWs at Bluewater Health's Palliative Care Centre during her last days, heartfelt thanks.
Friends and family are invited to attend a Funeral Mass at Precious Blood Cathedral on Friday, April 14, 2023 at 11:00 a.m. with Father Jeff Shannon officiating. In lieu of flowers, memorial donations to the Sault Area Hospital Renal Dialysis Care Fund or Bluewater Health Renal Dialysis Unit. Arrangements entrusted to Northwood Funeral Home Cremation and Reception Centre (942 Great Northern Rd, 705-945-7758).