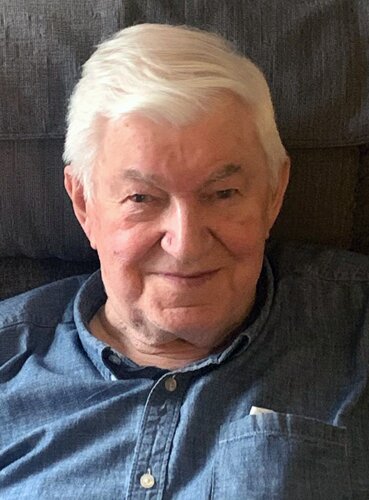 Obituary of Hector LeClair
It is with heavy hearts that we announce the peaceful passing of Hector on Wednesday, May 10, 2023 at the age of 89. It breaks our hearts to see you go but we know you are back in the loving arms of the love of your life, your beloved Fernande. We will miss your smile, the sparkle in your blue eyes and will keep all our countless special memories close to our hearts.
Hector is survived by his 6 children: Marc LeClair (Pat), Odette Hillyard (Bert), André LeClair (Linda), Micheline Findlay (Robert), Jean LeClair (Lisa) and Suzanne Salituri (Rob), his 19 grandchildren: Louise, Christine, Velvet, Fawn, Melanie, Ben, David, Joshua, Tammy, Loretta, Natasha, Jessica, Alexandre, Véronique, Philippe, Jean-Pierre, Nicolas, Nathan, and Stephanie, his 22 great-grandchildren and his 2 great-great grandchildren. Hector is predeceased by his parents Philippe LeClair and Yvonne (Arsenault) and his siblings Jacques LeClaire (Alphonsine), Robert LeClair (Jeanne), Lionel LeClair, Leonard LeClair, and all his adoptive Savoie family members. Brother-in-law of Annette LeClair, the late Armel Audet, late Antoinette Audet, Jeanne-Aimée Audet, late Guy Audet (late Noëlla), Anne-Marie Savoie, (Julien), late Andrea Morris (late Marcel), late Francine Savoie (late Pierre) and Gilles Audet (Rita). He will be missed by his many nieces, nephews, and friends.
Our father was a true jack of all trades and a proud member of Millwrights Local 1425 for over 50 years.
A special thank you to all the health care professionals who were involved in his care throughout the years. Hopefully, you will remember his smile, his 'Tank you', and his strong handshake of appreciation.
Papa, you have taught us the true meaning of devotion and constant love in sickness and in health! Not only did you love Maman unconditionally for 67 years, but you also loved each of us with all our unique personalities. You loved our spouses and the rest of the LeClair clan. You and Maman are now our two shining stars reunited up above and we know you will be watching over us forever. Prends Maman dans tes bras et repose en paix cher Papa, Grand-papa, Pépé, tu mérites tes ailes et ton halo. On t'aime!
In respecting Hector's wishes, only family will be present for the private service on Tuesday, May 23, 2023 at 11:00 a.m., with Deacon Robert Thibodeau officiating. For those who wish to view the service, it will be streaming live through Facebook on the Northwood Funeral Home Facebook page https://www.facebook.com/northwoodfuneralhome/. Simply be on the Northwood Funeral Home Facebook home page at 11:00 a.m. and the video will appear when the service begins. In lieu of flowers, memorial contributions to the Heart and Stroke Foundation would be appreciated by the family.
Arrangements entrusted to Northwood Funeral Home Cremation and Reception Centre (942 Great Northern Rd, 705-945-7758).