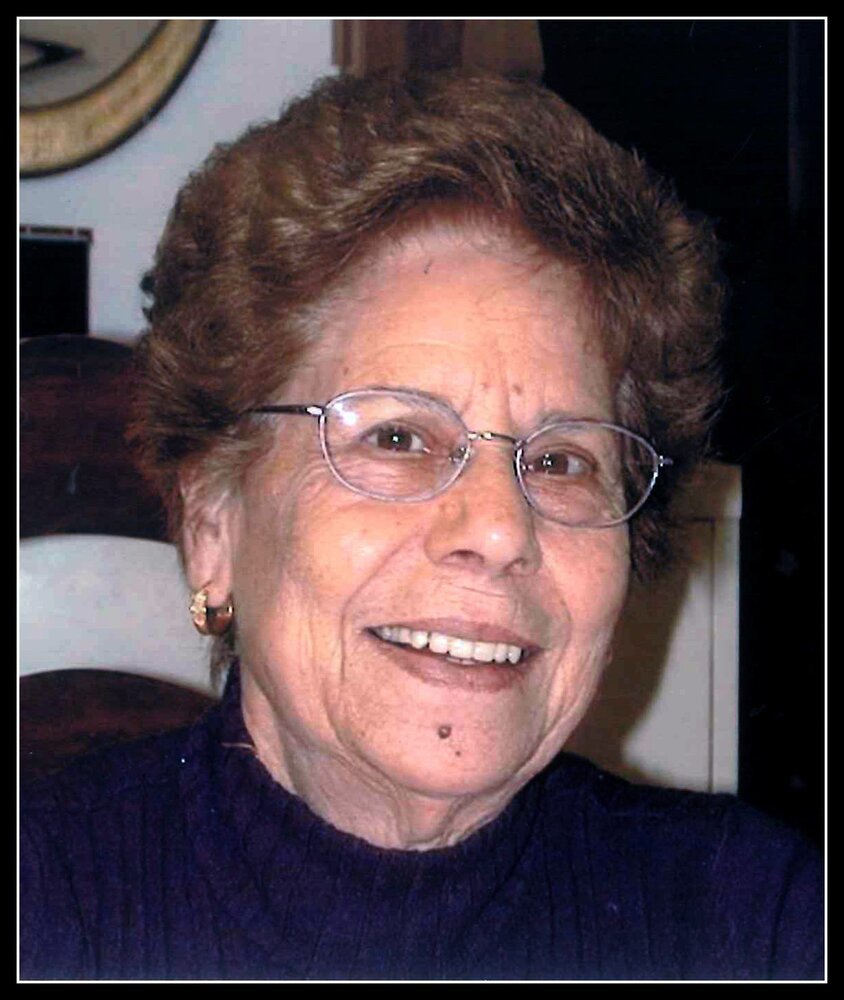 Obituary of Maria Palumbo
It is with great sadness that our family announces the passing of our beloved mother, wife, nona and nona great, Mary. The daughter of Luigi and Greziella Mancuso, Maria was born October 4, 1933, in Dipignano, Italy and passed away peacefully, with family by her side, on Friday, May 12, 2023 at 89 years old. Cherished wife and best friend of Nicola Palumbo for 73 years. Devoted mother of the late Nick (late Wilma), Danny (Rita) and Linda Sdao (Gennaro). The most admired nona of Sarah Palumbo (Josh), Christina Kochanowski (David), Nicolas Palumbo (Morgan), Marissa Takacs (Kevin), Kayla Sdao (Dave), Nicole Sdao (Evan), Daniel and Stano. Nona Great of Cruze, Charlee, Isabella, Sloane, Harper, Dominik and Isaak. Beloved sister of the late Rosabino Mancuso (Lydia). Sister-in-law of the late Vincenzo Palumbo (Pina). Pina and Maria were inseparable best friends. She was the loving Zia to many nieces and nephews and godmother to many.

After Maria and Nicola married in 1950, in Cosenza, Italy, Nicola immigrated to Canada in search of a better life for his family. Maria waited patiently for three years until Nicola sent for her, at which time she came by boat to reunite with the love of her life. Maria immigrated to Canada with only a wooden chest filled with their belongings and a dream to start a family. It was in Sault Ste. Marie that they set roots and had their three children. Nicola and Maria raised their family in a home deeply rooted in tradition, love and values. Over the years the family continued to grow, and Maria loved nothing more than to be surrounded by her children, grandchildren and great grandchildren. A day without a visit was often long enough to warrant a firm loving scolding. Maria always ensured everyone had more than enough food before leaving and ensured treats were sent home for the kids. She would routinely kiss and squeeze good-bye, always exclaiming "Belle e nanna, I love you to the moon and back!" or "Around the world and back again!".

Maria was the life of the party, always with her compari, Pina. In true Palumbo fashion they would stay up till the wee hours of the morning singing and carrying on. She had the best sense of humour and was always smiling and laughing. She was happiest in a busy home with lots of company. She loved all things flowers, pink, and shopping. Maria was the epitome of a woman with a heart of gold.

Maria worked for Lucy's Tailoring before venturing on her own and opening the iconic "Mary's Tailoring" on Bruce Street. She was the queen of Bruce Street; she was fearless, brave and worked her magic in the shop. Maria retired in 2003 to take care of Nicola at home as he lost his eyesight. Maria would light up at the sight of her husband as he walked in from the garage, always greeting him with a kiss. She would tell nursery rhymes taught by her mother, to the generations of children in the family, always animated and always making herself laugh to the end.

She lived a life of sacrifice and modesty to give her children and their families everything they have and cherish today. She radiated with pride when speaking about her children and growing family. There was nothing more sacred to her than her family. The special bond she created with each and every one of her grandchildren and great grandchildren will forever be unmatched. Maria made those special to her feel like family and treated them as such. If she loved you, she loved you fiercely. She lived life on her own terms, by her own rules and she went out just the same. She knew it was time to be with her son Nick, having been witness to her family together and her dreams fulfilled.
Friends and family are invited to visit at Northwood Funeral Home Cremation and Reception Centre (942 Great Northern Rd, 705-945-7758) on Thursday, May 18, 2023 from 11:00 a.m. until the time of the Funeral Service in the Chapel at 12:00 noon. Entombment at Holy Sepulchre Cemetery Mausoleum. Memorial donations to the FJ Davey Home Foundation would be greatly appreciated by the family.

The family would like to thank the Davey Home for all the care, support and compassion they showed to Maria in recent days.
"Gesu mi metto nelle tue mani,
Pigliami tu
Tienimi stretto fino a domani"

"Jesus I put myself in your hands,
Take me
Hold me tight until tomorrow"
Visitation
11:00 am - 12:00 pm
Thursday, May 18, 2023
Northwood Funeral Home
942 Great Northern Rd.
Sault Ste. Marie, Ontario, Canada
Funeral Service
12:00 pm
Thursday, May 18, 2023
Northwood Funeral Home
942 Great Northern Rd.
Sault Ste. Marie, Ontario, Canada