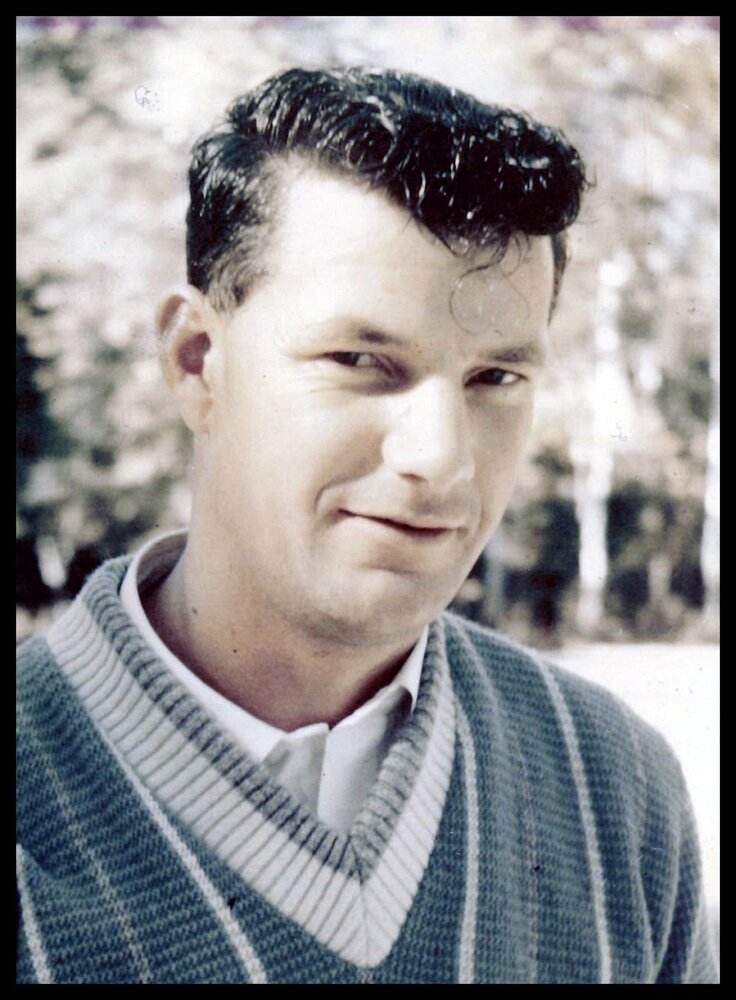 Obituary of James Clinton Hall
The family of James is sad to announce that on July 15, 2023 at 6:10 pm, "Big Jim" left us for his final journey.
James, Big Jim, Jimbo, Bubba, friend. Beloved Husband of Nancy (Vosper). Father of Karen Hall and Charlet Chartrand. Predeceased by his siblings John, Nick, Claude, Julia, and Geraldine. Brother-in-law of the Whole Vosper Fam-damly. Grandfather of Lee Rendell (Jake), Michael Skinner, Mitchell Chartrand, Rebecca Aubrey (John) and Great-Grandfather of Dax Rendell, Tristan Chartrand, Tyler Chartrand and Dean Aubrey.
Born on March 3, 1933, in Wolfville, Nova Scotia, Don Hancock (as he was first known), son of Tally and Elizabeth Hancock, came from a simple farming community. As a young man, Don hit the road, began his life's journey, and ultimately reached his 90th birthday. He briefly settled in the Sudbury area, where he became the father of Charlet Chartrand (Hancock). We do not know much, but we do know that shortly thereafter, he continued his journey to Sault Ste. Marie, as James Hall. The bad boy with a mysterious past met Nancy Vosper, and soon he became her "hunka-hunka burning" first love. They were married, and stayed married, for 59 years. Their daughter, Karen Hall, was born not long after, and they all happily journeyed together.
He was a hardworking man, loyal friend, and a lover of life. Big Jim was always there with a helping hand whatever the job. He was a dancer, a music lover, a gardener, a golfer, a fisherman, and a hunter. As an ironworker/rod man, he took pride in his work as a bridge and dam builder, as well as his work on the Sudbury stacks and the locks. He loved long nights of cards; crib, euchre, 500, poker and dice. At home, he was the king of 10-inch spikes (to be sure it was safe!) and he firmly believed that bigger was better.
I am so happy that I got to spend time with you, see your smile and hear your laughter. Our time together was much too short, but I will remember you with love.
As a father he was a gentle giant who always made us feel safe, and who introduced us to the many wonders in the world around us. The birds, especially bluejays and chickadees, as well as the chimpmunks and squirrels, were his friends. Swimming across a lake or river was an adventure, canoeing and throwing a line in the water was a delight, dancing with friends and family was all he needed to be happy. He brought Elvis to life for us, just as he added to the love of life for those around him.
For the last 5 years, Big Jim resided at Maple View, where he received kind and loving care.
A Celebration of Life will be held during Thanksgiving, to allow all the family to attend. If you wish to make a memorial donation in his name, please keep it local. Arrangements entrusted to Northwood Funeral Home Cremation and Reception Centre (942 Great Northern Rd, 705-945-7758).
Sing a Song, Dance a Dance, Drink a Drink, Catch a Fish, Listen to the Birds And Remember Big Jim, with a smile.
"See you later Alligator"