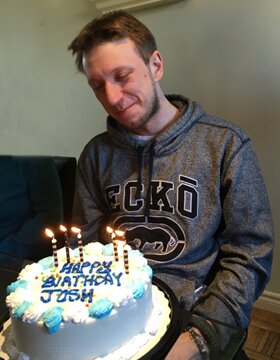 Obituary of Joshua Tauvette
Joshua left us in his warm, loving and comfortable home on Friday, August 25, 2023 at the age of 35 years – way too young for his beautiful soul to leave our world. He is loved and missed by his dear parents Barbara and Christopher. He was the bestest friend of his sister, Kristy and her husband, Tom, who was in fact just "Brother". They will miss him beyond measure and will be lost without him in their lives. His nephew, Russell will greatly miss not growing up with his Unkie Josh. Joshua was loved and cherished by his Grandmother, Natalie and is predeceased by his grandparents Richard, Edith and George Sherrard. He was so loved by his many aunts, uncles and cousins.
Joshusa was very kind, compassionate and loving. He loved hugs and was never shy about sharing love and telling his family he loved them. He not only loved his family with all his heart, but his critters as well. Anything and everything flourished in his care. His fish which he raised to perfection, his cat Peanut who he wore around his neck like a collar (her favourite place to be) and his gecko, Smilie who he rescued and is now the healthiest gecko ever. He spared no expense on ensuring his critters had the best life. He grew several types of plants for his fish tanks that even the professionals have a hard time growing and vegetables, his favourite was his home-grown tomatoes. Joshua spent hours assembling and painting WarCraft figurines, and he loved hockey which he played for many years as a goalie. He was a big fan of the Toronto Maple Leafs and we are heartbroken that he will not be sitting with us watching the games and giving us the up to date info on trades and rumours. He will be leaving us in his Toronto jersey with the #91 on it for whom he called "Johnny Hockey". Josh spent many hours with his buddy and co-worker, Tyson, gaming, watching movies and conversing after work. One of their favourite games was crokinole. We will miss Ty coming to hang out with Josh at the house and so will BoBo, as he really looked forward to his 10 pm walk and treat.
A private family service was held with Mrs. Helen Smith officiating. Memorial donations to the Eden's Reptile Rescue (edensreptile@shaw.ca) would be greatly appreciated. Arrangements entrusted to Northwood Funeral Home Cremation and Reception Centre (942 Great Northern Rd, 705-945-7758).
Son – if love could have saved you, you would still be with us! As you are loved so very much.
You will live forever in our hearts and minds.