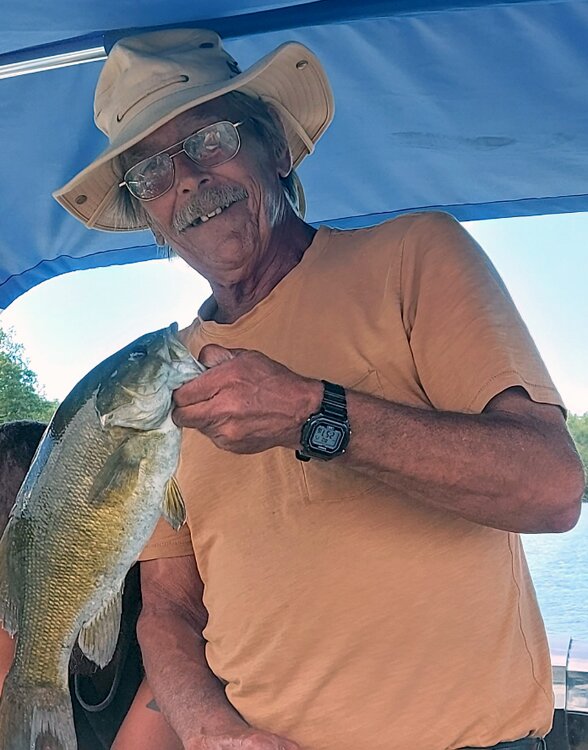 Obituary of Steven Slivinsky
With broken hearts, we annouce the passing of Steve at the Sault Area Hospital on Monday, September 25, 2023 at the age of 65.
Steve was born (1958) in Toronto to parents Stan & Edith (Bank) Slivinsky, who moved the family to Manitoulin Island during his teen years. There, they raised Steve and his brother, John Slivinsky, while they owned and operated Fred's Camp. Steve spent his teen years working hard at the camp, earning tips from tourists, and sneaking off for boat rides when time would allow.
In 1979, Steve moved to Sault Ste Marie, and soon after settled in Goulais River, where he raised his own family. Steve has now worked for over 30 years as the Landfill Supervisor at the Goulais River & Havilland refuse sites, where he formally retired from being "The Dump Guy" just a few months ago. There, Steve was the director of traffic, the cash & trash collector, the mediator, the counselor, the storyteller, and a friend to many. Steve could not stand to see anything wasted and was committed to saving all kinds of treasures from the trash pile. He had a particular interest in old, historical, quirky, and unique items. Steve had a love of history - especially WWII. He enjoyed fishing, collecting stamps and coins, and sharing stories. He was practically impossible to beat at chess. He never missed a work shift and enjoyed reading, sudoku, word puzzles, and his DS to get him through the long quiet winter ones.
Steve had a deep love of family and is survived by his children Michael Slivinsky and Melissa Slivinsky, & his daughter-in-law Tiffany Slivinsky. As well as his Grandchildren, Ryan (Olivia), Rosie, Cooper, and Liam. Steve will be deeply missed and strongly remembered. His family is in awe of the positive attitude he maintained over the past 6 years while he battled Stage 4 Colorectal Cancer. He chose daily to have a joy of life and kept us laughing and smiling through to the end. Steve will always be the man, the myth, the legend to us and so many!
Steve and family would like to thank EVERYONE who has supported us over the years. Each Nurse and Doctor, Home Care Support, Palliative Care Team, Bayshore/PSWs, Tracy's Dream, The Goulais River Soup Program, Goulais 1st Responders, Sault Paramedics, Jim Mills/Health Gear, The Group Health Center, Sault Area Hospital Cancer Clinic, Soo Medical Services, Rachelle Ball, as well as the countless members of the community of Goulais River who showed up with time, love, well wishes, support, meals, and goodies to keep Steve going strong.
We would also like to extend an extra special thanks to Wayne Smith, Sierra Grey, Jim Lipsit, Mark McPherson, Linda & Jeff Stewart, Dr. Jonusaitis, and Dr. Voutsadakis, whose contributions each made a tremendous impact on Steve's quality of life, and time with his family.
The family has arranged cremation and a private celebration of life per Steve's wishes. Everyone who knew Steve is encouraged to celebrate his life in their own way. However, if you need some ideas, take a page from Steve's book: Drink a Labatt Blue, smoke a joint (or 2), enjoy a fudgesicle, share a story, save something from the dump, or go fishing!
In lieu of flowers, the family values memorial donations made to Tracy's Dream, The Goulais Soup Program (705-255-2255), the SAH Cancer Care Fund or the Algoma Residential Community Hospice (ARCH). Arrangements entrusted to Northwood Funeral Home Cremation and Reception Centre (942 Great Northern Rd, 705-945-7758).