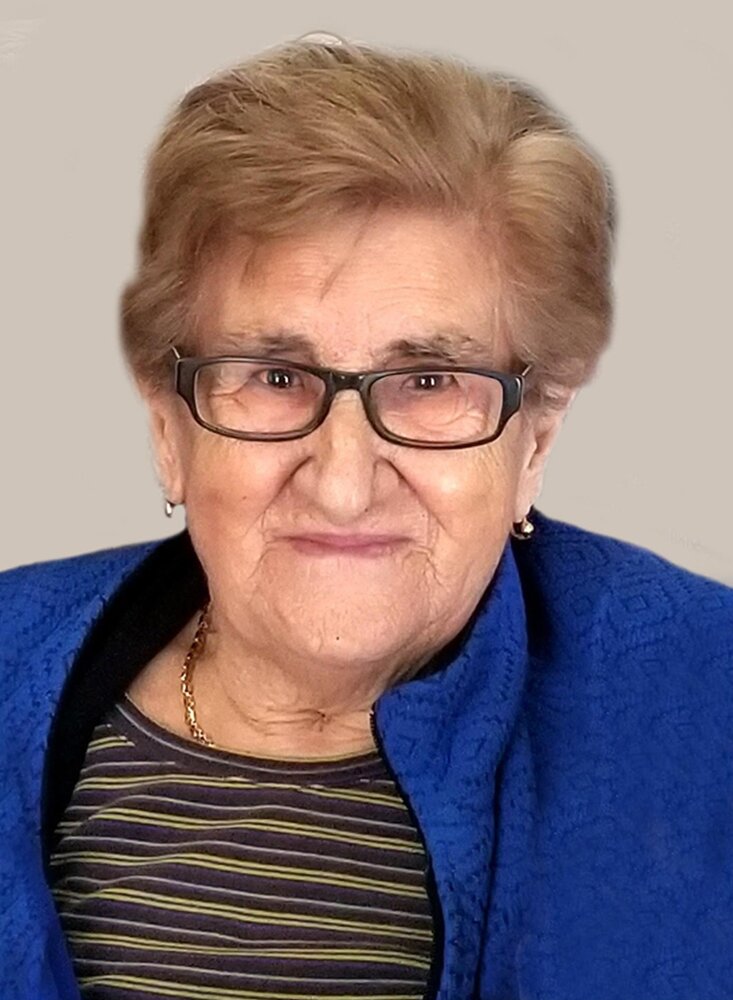 Obituary of Matilde Caruso
Matilde passed away at the Sault Area Hospital on Friday, October 20, 2023 at the age of 97 and outlived her husband Ernesto by 31 years. Having lived a long and fruitful life, Matilde's fortitude and resilience became more and more apparent as she aged into her strength.

Mother of Santa DeMarco (late Orlando), Stanley Caruso (Patricia), and Anne Marie Caruso (Greg Smyth). Repeatedly, Matilde would hold up her fingers and tell everyone who visited that she had three children: a daughter, a number one son, and her baby. When her strength started to falter, Matilde turned to Santa to bolster her, and Santa became her rock.

Matilde was the baby amongst her siblings: Sister of Francesco Briglio (Mariuzza), Edoardo Briglio (Emilia), Emilio Briglio (Emma), Nicole Briglio (Cesira), Gaspare Briglio (Palma), and Checchina Coccimiglio (Michele), all now deceased. She shared a healthy competitive nature with her siblings, especially Gaspare and their many "conversations" regarding their precious, prolific gardens. Matilde loved to watch things grow whether her greenhouse tomatoes and hot peppers, her fields of java beans and potatoes, or her orchard of pears, and especially her grandchildren and great-grandchildren.

"Nanna" to Paolo DeMarco (Chisato), Tricia DeMarco (Joe Carrier), Tim Caruso (Heather), and Sarah Amo (Chad). Great-grandmother of Christian Caruso, Reese Amo, Mia Amo, Ayaka DeMarco, and Caleb Caruso. Matilde's competitive drive is something which she has passed on to not only her children and her grandchildren (all successful in their chosen professions - which was very important to Matilde), but also her great-grandchildren who are excelling at so many different sports.

Daughter of the late Luigi and Anna Briglio and daughter-in-law of the late Pasquale and Antonia Caruso. Matilde grew up on Briglio and Caruso farms in Calabria, where she endured hardships which she shared through her many stories. She moved to Canada at the age of 35 and faced more challenges which she met over the years with her spunk and determination.

Sister-in-law of the late Alessandro Caruso (late Palmina), the late Francesco Caruso (late Francesca), the late Ortenzia Sdao (late Francesco), Christina Spina (late Gabriele), Pietruzza Gagliardi (late Mario), Giuseppina Mazzarello (late Ernesto), and Carmela Bossio (late Geniale). Matilde also has numerous nieces and nephews, many of whom visited regularly and gathered around her during her last days.

Matilde's greatest pleasure and joy was being around family, friends, and neighbours…and feeding people. You could not leave her house without her offering you something, "pleasa taka soma food". However, Matilde's family was her greatest love, and she would say her greatest accomplishment. Her nurturing, enduring love as well as her fortitude, and competitive, generous spirit are some of the many gifts she has passed on to her family who will miss her very much.

Friends and family are invited to visit at Northwood Funeral Home Cremation and Reception Centre (942 Great Northern Road, 705-945-7758) on Friday, October 27 from 11:00 a.m. until 12:30 p.m. Funeral Mass to follow at St. Veronica's Church (559 Douglas Street) at 1:00 p.m. with Father Peter Nwachukwu officiating. Entombment at Holy Sepulchre Cemetery Mausoleum. Memorial donations to St. Veronica's Parish or the SAH Foundation would be appreciated.

Heartfelt thanks to her home care support providers, especially those who have been with her since the beginning. They adeptly dealt with Matilde's resistance and stubbornness (about certain select things), helped her through her physical limitations, sat with her, and listened to her many stories of the old days. Many thanks also to Matilde's palliative care team.

We were also so happy that the rehab unit at the Sault Area Hospital got to see glimpses of her personality and her playful spirit when she called them beautiful, "bella", "bello", and said, "you so nice". Many thanks to all the staff at the SAH for their care of Matilde. Matilde herself would thank everyone for all the support they had shown her family.