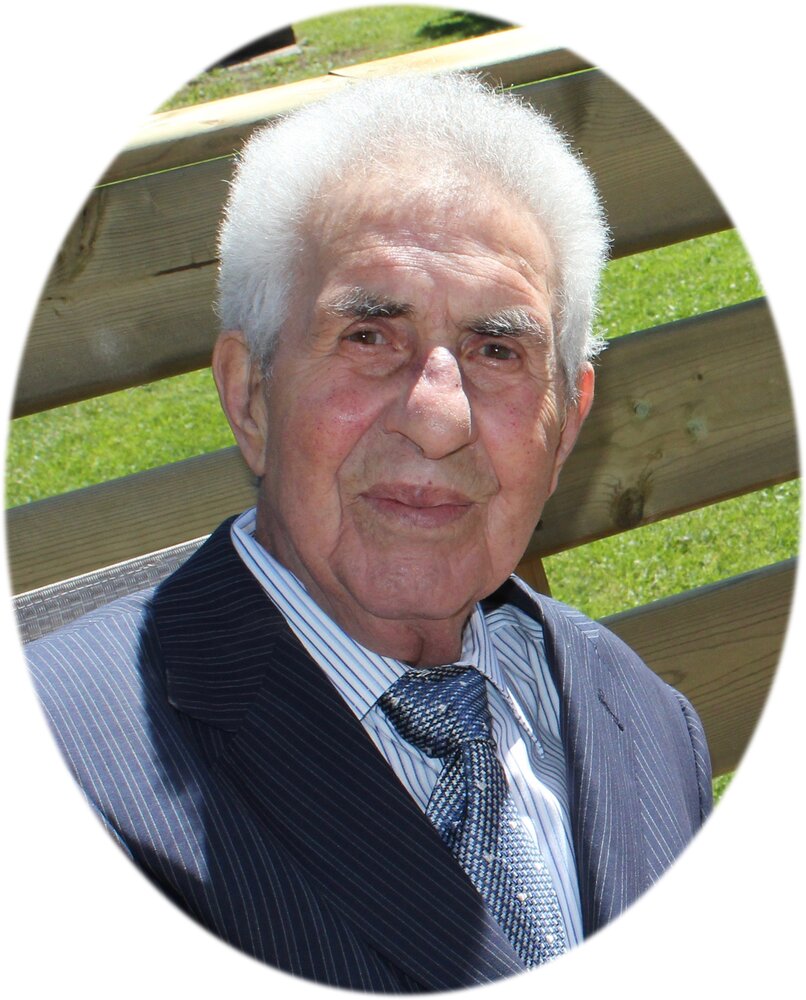 Obituary of Vincenzo Palumbo

PALUMBO, Vincenzo "Vince" - It is with great sadness that our family announces the passing of our beloved husband, father, grandfather and great grandfather, Vincenzo "Vince" Palumbo. The son of Domenic and Maria, Vince was born November 8th, 1933, in Dipignano, Italy and passed away peacefully on August 20, 2021, in his eighty-eighth year in Sault Ste. Marie, the city he called home for 65 years. Lifelong husband of Pina (DeFranco). Devoted father to Domenic (Terri), Dean (Joyce), Enzo, and Frank (Nancy). He is the ever-cherished grandfather of Vince (Tiziana), Lisa McLean (Kris), Robert (Lindsey), Marco (Amy), Lianna Merlino (Paul), Tianna, Kristen, and great grandfather of Marcus, Matteo, Aiden, Mary Jane, Sophia, Noel, Bruce, Liam, Faye, and Mila.

Beloved brother of Nicola (Maria) Palumbo. Son-in-law of the late Vincenzo and late Angelina DeFranco. Brother-in-law to the late Maria Sgro (late Domenico, late Alphonso Mauro), the late Frank De Franco (Adelina), Antoinetta Naccarato (Emilio), Tony DeFranco (Adrian), Peter DeFranco (late Lina), Silvio DeFranco (Pina) and Armando DeFranco. He was the loving uncle to many nieces and nephews.

At the age of eighteen he immigrated to Canada by way of Pier 21, landing in Halifax, Nova Scotia, on Nov 2nd, 1951. In his youth he travelled parts of the country working, learning new skills, and celebrating his new life in Canada. It was in Toronto that he would meet and eventually marry Pina, his loving wife of nearly sixty-five years, in November of 1956. While on their honeymoon they travelled together to Sault Ste. Marie, and it was there they set roots and began their family.

There was never anything more cherished, more sacred, or more celebrated in his home than family. From humble beginnings Pina and Vince raised their four children in a home deeply rooted in morals, values, and tradition. Year after year, decade after decade, nothing brought more joy to Vince than sitting at the head of the table each and every Sunday with his ever-growing family gathered around him. In true Palumbo fashion, no matter who dropped in, there was always enough room, food, and drink at his table for everyone. At these weekly gatherings his children would often reminisce on their childhood, often commenting on how strict their father had been in their youth, and as their father, especially in his later years, Vince would laugh sheepishly and enjoy the jokes about how he had changed. It seemed as the family continued to grow so had his heart. His humble home regularly held his family of more than thirty around the table, and in recent years he would routinely overflow with emotion as he would exclaim, "My heart is full when I see you around this table", or "My God you're so beautiful. I want to put you inside my heart."
Vince's life was one of simple pleasures and lifelong memories. He was a self-made man who often shared stories of his experiences working as a welder on the dam in Montreal River, tiling the pool for the mayor of Toronto, or his many years and wonderful friends he made during his time as a dedicated employee of Algoma Steel. He was a man who always found tremendous joy and took great pride in helping others, no matter the circumstance. He could fix just about anything, and if he couldn't fix it, he could probably build you a new one. He loved spending time in his garage nearly as much as he loved his garden, and he was a man who loved the process of quietly thinking his way through a problem.

He would take the time to learn new skills and would teach anyone willing to learn as a way of passing on that knowledge and tradition. He passionately made wine, cured meats, built cutting boards, carved utensils, repaired cars, and created wrought iron railings for decades. His love of nature and appreciation for the many gifts around him was always evident. Some of his fondest memories were made at the fishing / hunting camp where he spent much time with his closest friends and his family. More recently he devoted time to cheering for his favourite soccer teams with his buddy Chico perched upon his lap, the cat that he never wanted and yet never let leave his side.

Vince was the life of the party and the wallflower, the singer and the storyteller. He was the last to leave the dance floor and also the first to sit perfectly still, engaged in a quiet conversation. He was the kind of person that would be who you needed him to be, the kind that could make you feel like the most important person in a room full of people. His face would light up at an opportunity to sing or dance with his wife, and singing nursery rhymes to the generations of children in the family always brought a sparkle to his eye. He lived a life of modesty and sacrifice in order to fully provide for the family and found joy in living vicariously through the accomplishments of his children, grandchildren, and great grandchildren. He was a man who had dreams, set goals, and worked tirelessly to achieve them. He left us just as he lived with us, on his own terms, at peace, having been witness to his dreams being fulfilled, his family together, carrying on his traditions.
Due to the on-going pandemic a private family service will take place. Arrangements entrusted to Northwood Funeral Home Cremation and Reception Centre (942 Great Northern Road, 705-945-7758). In lieu of flowers the family kindly asks that donations be made to Sault Area Hospital or ARCH.

The family would like to emphatically thank the Sault Area Hospital staff of 3A & 2A, Dr. Moore, Dr. Berry, the emergency personnel and all of those who provided support, understanding and excellent care to Vince in recent days.

"Angelo di Dio, che sei il mio custode, illumina, custodisci, reggi e governa me, che ti fui affidate dalla pietà celeste, e cosi sia. Amen"

"Angel of God, you are my guardian, illuminate and guard, to rule and guide me, that I was entrusted by the heavenly goodness, and so it is. Amen"
To send flowers to the family or plant a tree in memory of Vincenzo Palumbo, please visit Tribute Store