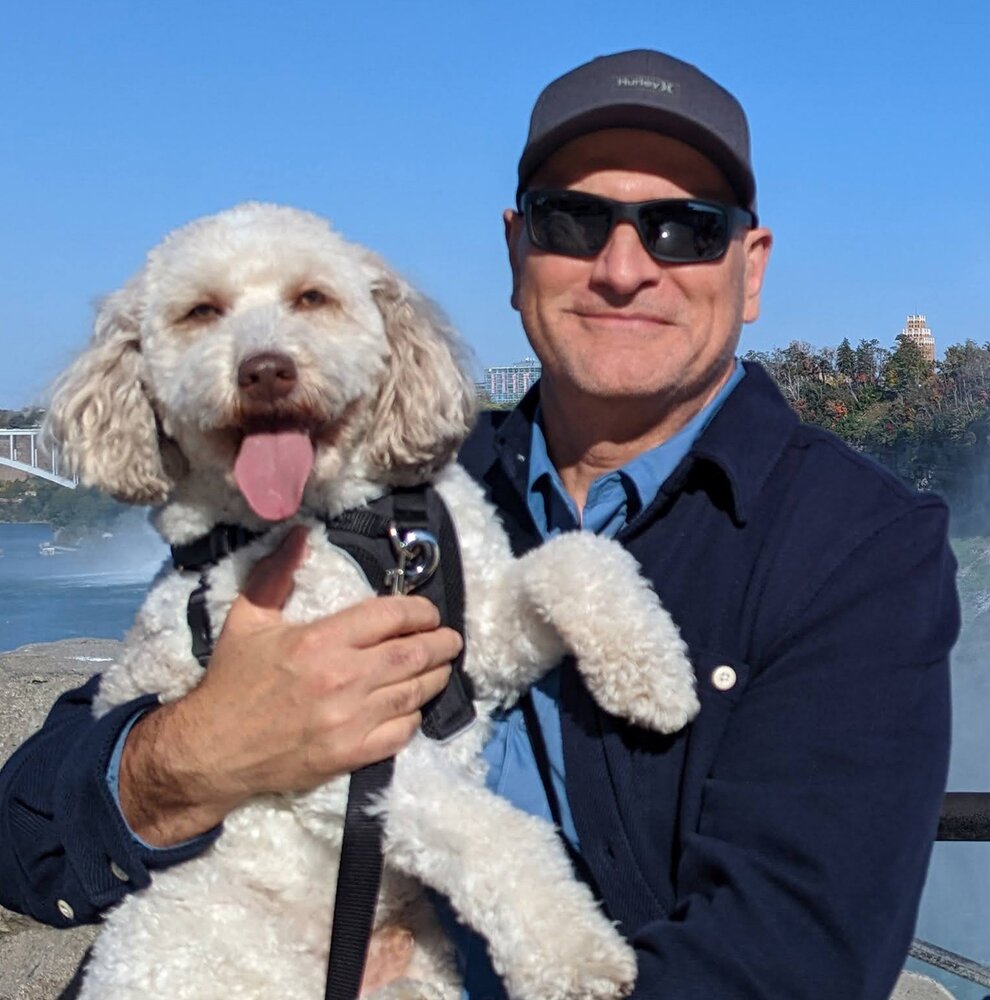 Obituary of Dr. Robin Harwood
It is with profound sadness that we announce the passing of Dr. Robin Harwood. His battle with cancer ended with his soulmate, Allison Richard by his side on Tuesday, May 9, 2023.
Robin was born in Regina on December 13, 1967 and raised in a small town named Pilot Butte, Saskatchewan. His parents, George and the late Carol Harwood raised their three children Scott (Jill) (niece Lauren) and Sharon Ann Harwood (Dwayne) (nieces Crystal and Dawn) in Pilot Butte where Robin attended elementary school and high school. He later went on to receive a Degree in Business at the University of Regina in 1991 and his Doctorate of Medicine at the University of Saskatchewan in 2005. He moved to Ontario after he was accepted into Queen's University. He completed his residency there and became a Royal College Anesthesiologist in 2010. Robin was offered a full-time position at the Sault Area Hospital in 2010 until he was diagnosed with terminal cancer in 2021. This is when his courageous battle began.
Dr. Harwood was a gifted Anesthetist. When you were a patient of his you were in safe and reliable hands. He was the kind of Doctor that could tackle any situation. He especially loved getting to know his patients on clinic days. He appreciated when his patients would take the time to share "their story". He took his time and made sure he didn't make them feel rushed and took pride in making them feel at ease about their upcoming surgery. His calm demeanor also made his work colleagues feel at ease as well. He will be forever missed by his operating/PACU/day surgery/Labour room family.
It was after Robin worked in Sault Ste. Marie that he met the love of his life Allison Richard and her children Brayden and Ashley. Allison was always by his side in and out of the operating room. They built a beautiful life together full of making memories camping with his second set of parents Doug and Darlene Blunt. They spent many days all together by campfires, playing cards, boating, tubing, and kayaking along with their two fur babies Kody and Milo. They made a lifetime of beautiful memories in their 9 years together. Robin was part of their family and they will forever be grateful for the time they had together.
Although Robin was the full time Anesthesiologist his real passion was writing and playing music. He had a "perfect pitch" and could play a song only by listening to it first. He was a genius on the bass guitar as well as the piano. His dream was to record his own music and even wrote a song for Allison. He connected to friends through music and truly felt peace when he was able to play and record.
Robin wanted to send his heartfelt thanks to his colleague and friend Dr. Kerri-Ann Taylor for her support and care. He would also like to thank Louise (cancer clinic nurse), Dr. Spadafora, Cyndi (Bayshore nurse) and Dr. Booth as well as many others for their exceptional care. He spent his final days at ARCH where he was very well looked after. He would also like to say thank you to the staff and the volunteers during his time at ARCH.
Friends and family are invited to attend a Memorial Service at Northwood Funeral Home Cremation and Reception Centre (942 Great Northern Rd, 705-945-7758) on Tuesday, May 16, 2023 at 6:30 p.m. A Come and Go Celebration of Robin's life will follow in the Lower Lounge from 7:00 p.m. until 8:30 p.m. Memorial donations to ARCH in Robin's memory would be appreciated by the family.
Memorial Service
6:30 pm
Tuesday, May 16, 2023
Northwood Funeral Home Chapel
942 Great Northern Rd.
Sault Ste. Marie, Ontario, Canada
Celebration of Life - Come and Go
7:00 pm - 8:30 pm
Tuesday, May 16, 2023
Northwood Funeral Home - Lower Lounge
942 Great Northern Rd.
Sault Ste. Marie, Ontario, Canada